A feminist city guide to Houston
Why we've got our eye on this diverse Texas city
In this newsletter: why we've got our eye on Houston, Texas. With your paid subscriptions we've supported important non-profits, including the Lilith Fund, World Central Kitchen, Refugio Animal Holbox, Womankind, Girls Write Now, Women for Women, Heart of Dinner, and Black Mamas Matter. If you've found your way here but are not yet subscribed, let me help you with that:
---
Lately, I've been hearing a lot about Houston. Whether I'm seeing it as the vibrant backdrop to Top Chef's new season, hearing about it from other travelers, or reading about it in travel stories—it seems this Texan city has a lot to offer by way of diversity.
As it ends up, Houston (the 4th largest city in the USA) is a true melting pot of cultures. One hundred and forty-five languages are spoken throughout the city. Menus offer everything from Vietnamese fare to Texan barbecue. Arabic karaoke is blasted alongside homegrown rap. Asiatown (Houston's answer to Chinatown) boasts the third largest Vietnamese population in the United States and the Mahatma Gandhi District—where the late Anthony Bourdain was treated to a Bollywood dance in an Indian grocery store—shares space with kebab shops and Salvadoran dishes.
In our Feminist City Guide to Houston, Texas native Dana DuTerroil and Joni Fincham curate a stellar list of women and BIPOC owned businesses for travelers to visit. Here are just a few of our favorites.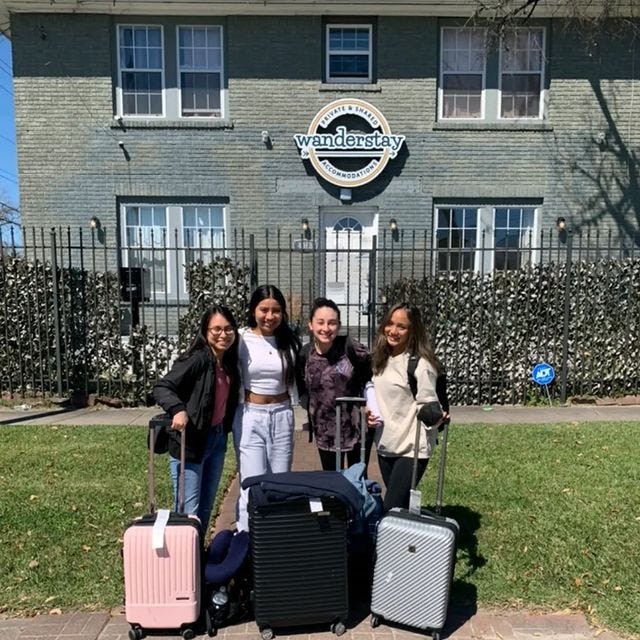 1. Stay at the First African American Owned Hostel
Seasoned budget traveler pro and author Deidre Mathis opened Wanderstay, the first African American-owned hostel in the United States with a welcoming atmosphere inspired by her trips to over 41 countries. Its location is close to downtown and the Museum District, and includes a Beyoncé-themed women-only dorm with full-sized bunk beds.
2. Drink Cappuccinos for a Cause at 2nd Cup
Founder Erica Raggett's nonprofit, A 2nd Cup, educates the public about human trafficking from within a cozy coffee shop setting, where proceeds from their matcha lattes, baked goods, and merchandise help survivors reboot their lives with housing, mentoring, and job skill programs.
3. Shop at Latina-Owned Kismet
Latina entrepreneur Cristina Hernandez grew up in Houston's East End, one of the city's oldest Hispanic neighborhoods, which she chose for her shop, Kismet Boutique. The inventory reflects the area's heritage with playful pan dulce earrings, Selena-themed Loteria cards, and purses and pillows featuring Frida Kahlo.
4. Dance the Honky Tonk at this LGBTQ+ Dance Hall
Neon Boots Dancehall and Saloon, the Lone Star State's largest LGBTQ+ honky tonk, stays true to its country music roots as the former home of the Esquire Tavern, where country music legends like Loretta Lynn, Tammy Wynette, and Patsy Cline graced the stage. Free dance lessons will have novices two-stepping on the Texas-sized dance floor, and the memorabilia in the Esquire Room provides a deep dive into country music history.
5. Support Houston's Refugee Women at Community Cloth
Community Cloth empowers refugee women skilled in Indigenous textile techniques and crafts through entrepreneurship. Refugees—who hail from countries like Myanmar (Burma), Bhutan, Iraq, Nepal, Syria, Congo, and Afghanistan—now call Houston home while enriching the city with their native craftsmanship, one thread at a time. Sales of their handwoven scarves and knitwear go to the women who made them and to fund the program, which provides materials, training, and business acumen.
---
Martinis, scammers, and travel planning
Pick up a copy of Cocktail Codex because now that you own a bonafide bar cart, you plan on making this the summer that you (finally) learn how to mix something other than a mimosa. Make yourself a dirty martini and watch the latest season of the Flight Attendant (while ignoring the irony that the main character spends every episode seemingly trying to avoid dirty martinis).
Get inspired by all the episodes shot in far-flung places like Iceland and Berlin, and (shameless plug here) pick up a copy of Wanderess to begin planning your next trip. Take a break from travel planning to read this article about the worst boyfriend in New York City (spoiler: he's a scammer). Decide that your boyfriend and his masterful avoidance of cleaning the cat's litter box is actually not that bad. Finally, pre-order this book from Crime Junkies host and Audio Chuck founder, Ashley Flowers, whose debut novel is sure to be a thrilling crime read.
---
e-mail me | find me on twitter | follow me on instagram | send me your feedback